Degreasing Solvent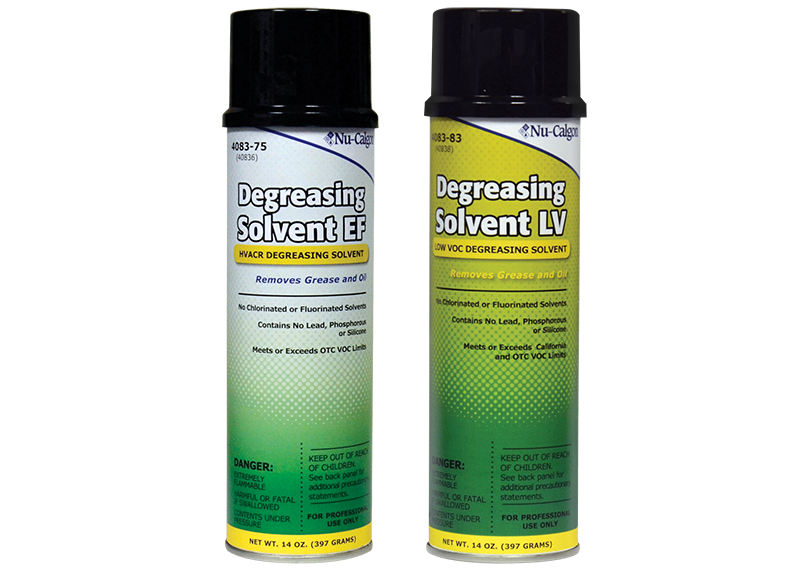 Dries at a controlled rate, leaving no residue
Dissolves grease and oil in seconds
Has a dielectric strength greater than 26,000 volts
Non-corrosive
Environmentally & Ozone safe
Description:
This highly active solvent blend provides maximum performance in a degreasing solvent without the use of ozone depleters or chlorinated solvents. Powerful blasting spray removes grease, oily dirt and contaminants. This special formula is also suitable for cleaning equipment, tools plus parts and meets or exceeds current OTC VOC requirements.
Use Degreasing Solvent LV (Low VOC) for California, Utah and New Hampshire.
IMPORTANT: Do not spray on hot or warm surfaces. This product will affect certain plastics, rubber, various elastomers, and some paints. Always test in an inconspicuous area to check product for compatibility.
Packaging Size
Part Number
Additional Info
EF- 14 ounce can
4083-75
LV- 14 ounce can
4083-83
Directions:
This product must be used in accordance to the following directions by HVACR professionals only.
Remove cap and insert extension tube provided into spray tip. Hold can upright and keep tip pointed at dot on valve cup. Spray parts liberally and allow to run off. Air or towel dry with clean, soft wiper. Repeat as necessary. Protect rubber, fiberglass, and plastic parts from over spray.
Product Information:
Literature Downloads
Download the product bulletin and other relevant literature here.
Labels
Download a low resolution file of the product label here.
Product Safety
AEROSOL, DEGREASING SOLVENT - LV, 6X1 CS

AEROSOL, DEGREASING SOLVENT EF 6X14 OZ CS