Electrical Contact Cleaner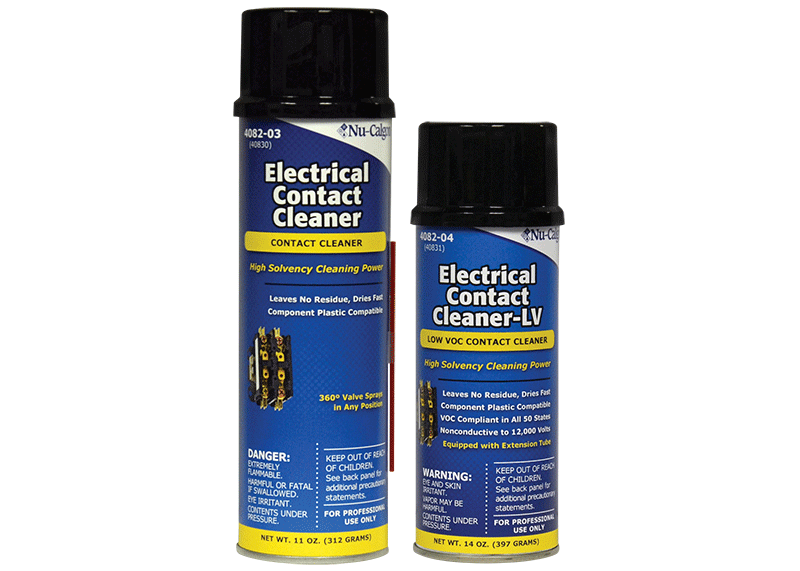 Removes, Dirt, Dust, Flux & Light Oils
Fast Drying with No Residue
Nonconductive to 12 KV
Synergistic Blend of Brominated & Flourinated Solvents
Safe on Most Plastics
Description:
Electrical Contact Cleaner cleans, lubricates, and protects electrical contacts from corrosion, and is safe on most plastics. Cleaning action quickly removes greases, dust, and oxidation, restores and maintains precision and efficiency to the instrument and component. Includes extension tube for pinpointing application. USDA Approved.
Electrical Contact Cleaner-LV (low voc) meets or exceeds VOC limits for California and Canada.
This fast drying formulation leaves no residue and is compatible with component plastics and painted surfaces if overspray occurs. This next generation product contains no CFC's, HCFC's, or other ozone depleters. Blasting spray easily cleans oil, flux, dirt, and other contaminants from contacts, printed circuit boards, switches, motors, precision instruments and more. While advanced in performance and ozone safety, this product is flammable and must therefore be used only on de-energized components and equipment. Always allow to dry and evacuate fumes before power is returned.
Packaging Size
Part Number
Additional Info
LV - 14 ounce can
4082-04
11 ounce can
4082-03
Directions:
This product must be used in accordance to the following directions by HVACR professionals only.
For the cleaning of fairly large surfaces, aim the spray tip at the area to be cleaned and press button. For the cleaning of confined areas and small exact spots, press the 6˝ extension tube into the valve opening until it bottoms, then spray directly on the spot to be cleaned.
Product Information:
Literature Downloads
Download the product bulletin and other relevant literature here.
Labels
Download a low resolution file of the product label here.
Product Safety
AEROSOL, ELECTRICAL CONTACT CLEANER - LV, 6X1 CS

AEROSOL, ELECTRIC CONTACT CLEANER 6X11 OZ CS
RTK Information
AEROSOL, ELECTRICAL CONTACT CLEANER - LV, 6X1 CS

AEROSOL, ELECTRIC CONTACT CLEANER 6X11 OZ CS