Evap-Fresh No Rinse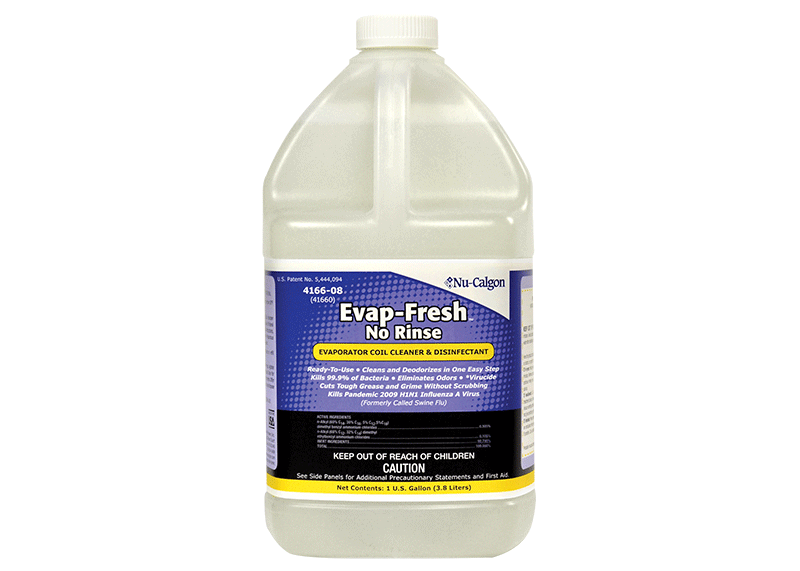 Cleans and deodorizes in one easy step
EPA registered for the HVAC application
Ready-to-use disinfectant formulation
No rinsing required
Eliminates odors
Description:
Evap-Fresh is a ready-to-use, non-abrasive, one-step cleaner and disinfectant for evaporator coils in small air conditioners, commercial air handling equipment, HVAC cooling coils and refrigeration equipment. It is the first product of its kind in the industry to receive EPA registration for such claims.
CORONAVIRUS INFORMATION: Evap-Fresh in a one gallon bottle, part number 4166-08, has demonstrated effectiveness against viruses similar to 2019-nCOV on hard non-porous surfaces. This product is listed on the EPA's Registered Antimicrobial Products for Use Against Novel Coronavirus SARS-COV-2, the Cause of COVID-19. This product is marketed with the intended use for HVAC systems.
Packaging Size
Part Number
Additional Info
1 gallon
4166-08
Directions:
It is a violation of Federal Law to use this product in a manner inconsistent with its labeling. This product is not for use on critical or semi-critical medical device surfaces. Fill or refill the 32 ozs. Evap-Fresh No Rinse Evaporator Coil Cleaner & Disinfectant spray bottle with Evap-Fresh No Rinse Evaporator Coil Cleaner & Disinfectant refill. Pour product into spray bottle over sink or tub basin.
DISINFECTION, DEODORIZING,AND CLEANING
Remove gross filth or heavy soil prior to application of the product. Hold container six to eight inches from surface to be treated. Spray area until it is covered with the solution. Allow product to penetrate and remain wet for 3 minutes. No scrubbing is necessary. The product will not leave grit or soap scum. Using approved AOAC test methods, in the presence of 5% blood serum and a 3 minute contact time, unless otherwise noted, this product kills the following organisms on hard non-porous inanimate surfaces:

BACTERICIDAL ACTIVITY
When used as directed, Evap-Fresh No Rinse is an effective disinfectant against the following organisms on hard, non-porous inanimate surfaces:
• Escherichia coli • Streptococcus pyogenes
• Salmonella (typhi) enterica • Salmonella (choleraesuis) enterica
• Pseudomonas aeruginosa • Listeria monocytogenes • Staphylococcus aureus
TUBERCULOCIDAL ACTIVITY
This product exhibits disinfectant efficacy against Mycobacterium tuberculosis BCG at 20ºC when the treated surface is allowed to remain wet for 5 minutes.

VIRUCIDAL ACTIVITY
This product kills on hard, non-porous inanimate surfaces when allowed to remain wet for a 10 minute contact time against: Hepatitis A Virus (HAV). This product, when used on environmental, inanimate hard surfaces exhibits virucidal activity against: Human Coronavirus, SARS associated Coronavirus, and Avian Influenza A strains H3N2 and H9N2 for 2 minutes; Rhinovirus type 39 (ATCC VR-340) and Rotavirus for 3 minutes. Kills Pandemic 2009 H1N1 Influenza A virus (formerly called swine flu).

MILDEWSTAT
To control mold and mildew on pre-cleaned, hard, non-porous surfaces spray
surface to be treated making sure to wet completely. Let air dry. Repeat application at weekly intervals or when mildew growth appears.
Product Information:
Literature Downloads
Download the product bulletin and other relevant literature here.
Labels
Download a low resolution file of the product label here.