Carbon Block Cartridge (1)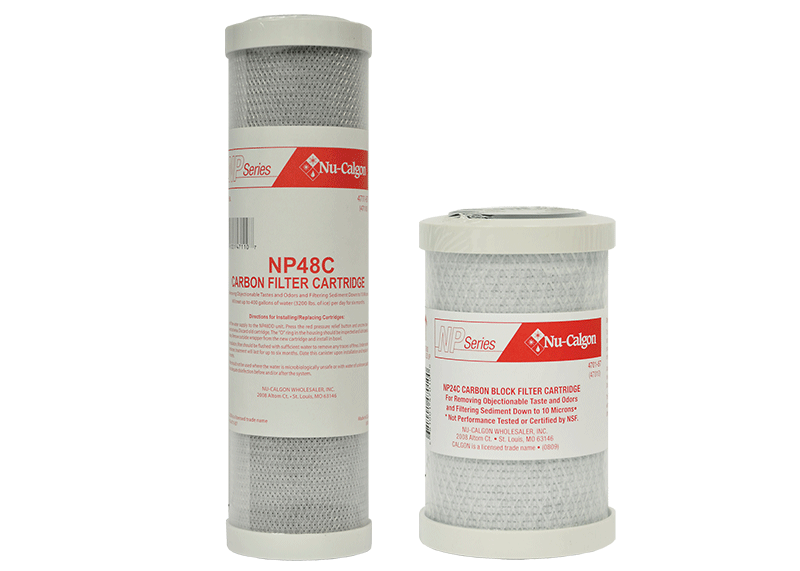 Treat equipment making up to 1800 lbs. of ice per day or using up to 200 gallons of water per day where scale is the problem… and up to 400 gallons of water per day where silt, sediment or objectionable taste and odors are the only problems
Inhibit lime scale formation
Remove silt, sediment and turbidity
Remove objectionable tastes and odors

Description:
These carbon block cartridges are manufactured from high-performance activated carbon that simultaneously removes free chlorine, hydrogen sulfide, and other organic chemicals that contribute to taste and odor, while providing the particle removal and dirt holding capacity down to 10 microns. They allow for flow in the radial (outside-to-inside) direction, resulting in a higher flow rate at a comparably lower pressure drop. The NP24C is designed to handle up to 200 gallons of water per day while the NP48C can handle up to 400 gallons, for six months. They are made with FDA-approved materials and can also provide for VOC and TOC removal.
| Packaging Size | Part Number | Additional Info |
| --- | --- | --- |
| NP24C | 4701-87 | |
| NP48C | 4711-87 | |
Product Information:
Literature Downloads
Download the product bulletin and other relevant literature here.
Labels
Download a low resolution file of the product label here.