CFS Filtration System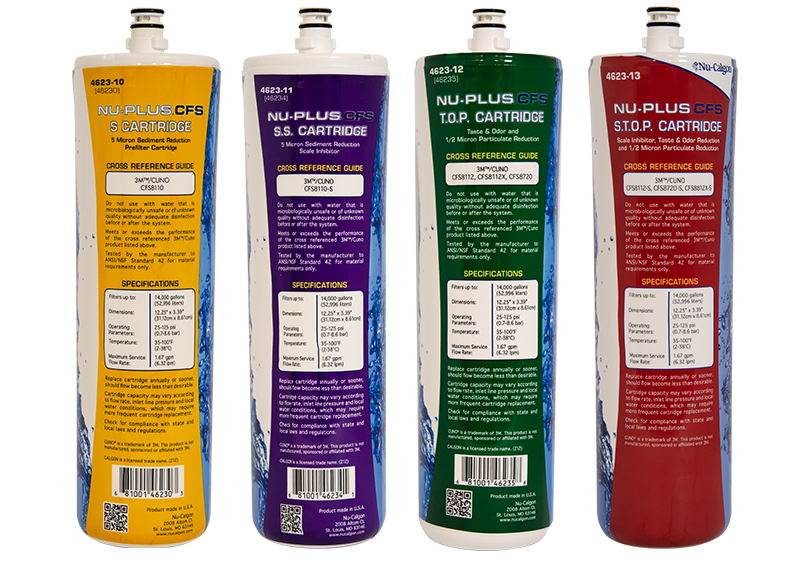 OEM quality replacement cartridges for: § CFS 8110, 8110-S, 8112, 8112X, 8720, 8112S, 8720-S, 8812X-S
Single, Twin, and Triple head manifolds that permit new installations
Inhibit scale
Particulate removal
Remove objectionable taste and odor
Description:
The Nu-Plus CFS water filtration systems come in the following head configurations:
Single Head with pressure gauge 4623-01.
Twin Head in parallel (equal water flow through cartridges) and pressure gauge 4623-02.
Twin Head in series flow (flow through one cartridge, then the other) with pressure gauge 4623-06.
Triple Head in parallel flow with pressure gauge 4623-03.
Filter capabilities consist of the reduction of sediment particulate as well as chlorine and other objectionable taste and odors of the water which would adversely affect the taste of carbonated and non-carbonated beverages, coffee and ice. Also, a food-grade scale and corrosion inhibitor can be automatically fed into the water to inhibit the formation of scale in ice machines and coffee makers. Nu-Plus CFS filters have been tested by the manufacturer against ANSI/NSF Standard 53 for the reduction of chlorine taste and odor.
Packaging Size
Part Number
Additional Info
NU-PLUS CFS - S
4623-10
NU-PLUS CFS - SS
4623-11
NU-PLUS CFS - TOP
4623-12
NU-PLUS CFS - STOP
4623-13
Directions:
Head and Cartridge Installation Instructions
For more Instructions and Guidelines please download bulletin 3-415 by click on the "Product Information" tab.
Shut off incoming cold water line.
Mount filter system to a wall or support structure using mounting bracket provided.
The installation of a shut-off on the water line before the filter head is recommended.
The filter head is equipped with 3/8 ˝ female connectors designed to receive 3/8 ˝ copper or plastic tubing. First apply a light coat of food-grade lubricant (provided) to the tubing. Then, simply insert the tube into the female connector until it seats. At that point it will have gone past the internal O-Ring that provides a watertight seal. Repeat for both inlet and outlet connections. If desired, install the enclosed flush value into the outlet fitting first, and then install the outlet water line into the outlet of the flush valve.
Locate filter cartridge and remove plastic shrink wrap. Remove the black cap from the top of the filter covering the filter's O-Ring's.
Apply a light coat of food-grade lubricant to the O-Rings on the Nu-Plus CFS cartridge(s).
Prepare to insert cartridge(s) into filter head by holding cartridge with the label facing to the left. Insert cartridge and turn toward the right until a clicking sound is heard. Note: The clicking sound indicates that the cartridge is properly engaged, and label should be visible.
For twin or triple head installations repeat steps 5, 6, and 7 for each cartridge.
Product Information:
Literature Downloads
Download the product bulletin and other relevant literature here.
Labels
Download a low resolution file of the product label here.