CGSYS-22C5S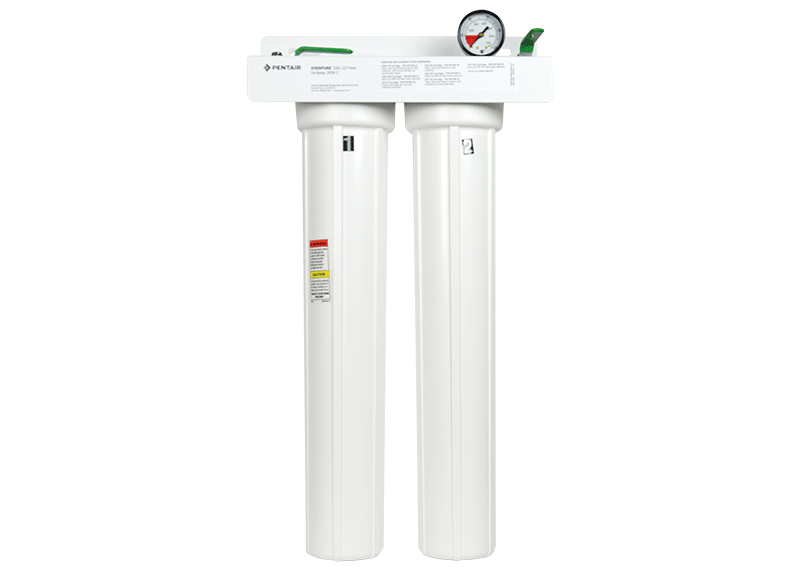 Suited for cuber and flaker ice machines of 50-1200 lbs./day
Series flow 20˝ bowl housings accept two drop-in cartridges
Includes one 10-micron sediment prefilter
Includes one 5-micron phosphate and carbon block primary cartridge for scale, taste, and odor
System includes water pressure gauge

Description:
The CGSTS-22C5S is a filtration system to simulate and be compatible with the Tri-Liminator water filters. Contains a matching product for each of the Tri-Liminator models, and the specifications are nearly identical. In addition, the primary cartridge will replace both the K00070 and K00174 cartridges, and it has more scale control ability than either Tri-Liminator cartridge.
Suited for cuber and flaker ice machines of 50-1200 lbs. per day
Series flow 20-inch bowl housing accepts two drop-in cartridges
Includes one 10-micron sediment prefilter and one 5-micron phosphate and carbon block primary cartridge for scale, taste and odor
System includes water pressure gauge
Includes wall mounting bracket and hardware for fast and easy installation
Equipped with a pressure relief button to relieve water pressure during cartridge changes
Service flow rate: Maximum 3.34 gpm
| Packaging Size | Part Number | Additional Info |
| --- | --- | --- |
| CGSYS-22C5S | 9101-24 | |
| CG5-20S Primary Cartridge | 9108-27 | |
Product Information:
Literature Downloads
Download the product bulletin and other relevant literature here.
Labels
Download a low resolution file of the product label here.