Nu-Plus HFS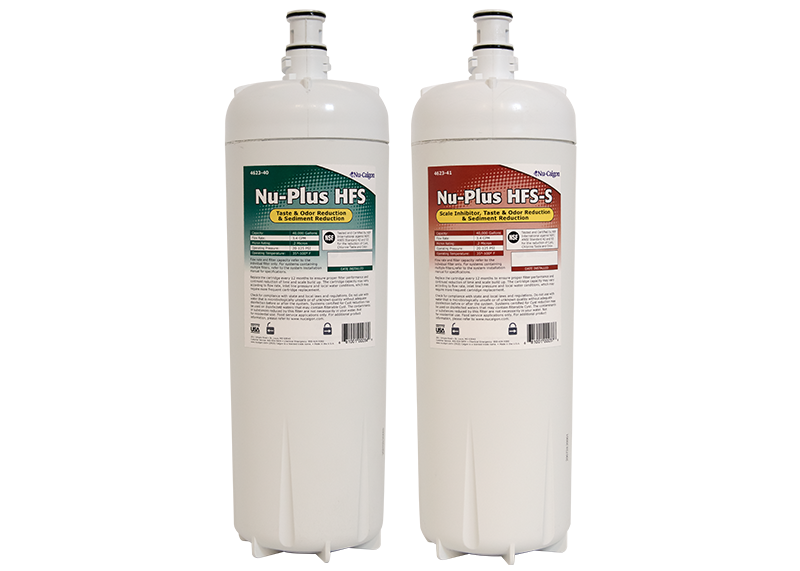 OEM quality replacement cartridges for high-flow applications 
Remove objectionable taste and odor
Sediment removal 
Inhibit scale 
.5 Micron Rating
NSF 42/53 
Flow Rate of 3.4gpm 
40,000 gallon capacity  
Description:
Nu-Plus HFS, a new and cost-conscious water filtration system for food service applications. These sanitary quick change cartridges are designed to fit existing high-flow applications. The Nu-Plus HFS products provide you with high-flow filtration technology for all your water using equipment: Ice Machines, Fountain Beverage, Steam Ovens, and Drinking Water applications. Nu-Plus HFS is the easy and reliable choice when looking to replace existing high-flow cartridge's, without replacing the entire system. 
| Packaging Size | Part Number | Additional Info |
| --- | --- | --- |
| 4x1 | 4623-40 | Taste & Odor Reduction & Sediment Reduction |
| 4x1 | 4623-41 | Scale Inhibitor, Taste & Odor Reduction & Sediment Reduction |
Directions:
Cartridge Installation Instructions
Shut off incoming cold water line.
Locate filter cartridge and remove the black cap from the top of the filter covering the filter's O-Ring's.
Apply a light coat of food-grade lubricant to the O-Rings on the Nu-Plus HFS cartridge(s).
Prepare to insert cartridge(s) into filter head by holding cartridge with the label facing to the left. Insert cartridge and turn toward the right until a clicking sound is heard. Note: The clicking sound indicates that the cartridge is properly engaged, and label should be visible.
For twin or triple head installations repeat steps 2, 3, and 4 for each cartridge.
Product Information:
Literature Downloads
Download the product bulletin and other relevant literature here.
Labels
Download a low resolution file of the product label here.