Rx-Acid Scavenger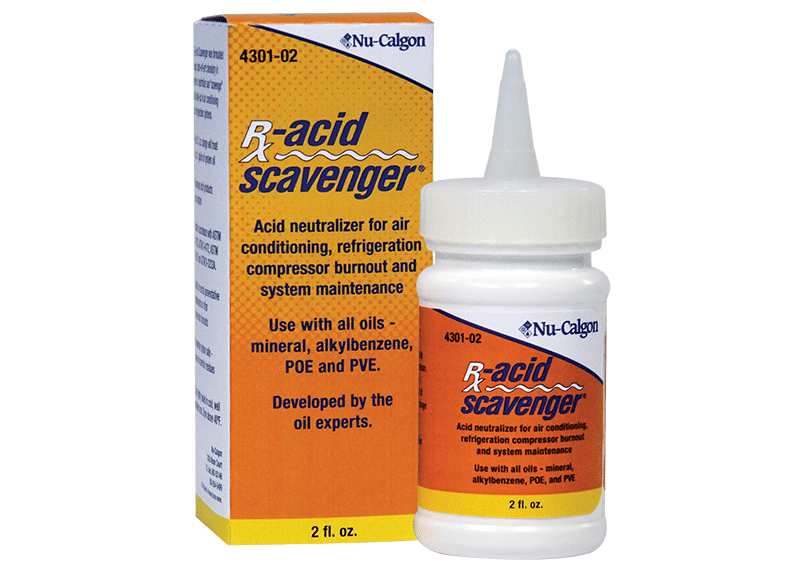 Eliminates acid build-up in A/C and refrigeration systems
Protects against future acid circulation
Helps prevent compressor burnout
Compatible with all oils and refrigerants 
System safe - leaves no harmful by-products
Description:
The Rx-Acid Scavenger family of products provides a convenient way to neutralize or "scavenge" acid in refrigeration, air conditioning systems after burnouts or during normal on-going system maintenance. Normal dosage treatment of any Rx-Acid Scavenger product will address up to one gallon of system oil. All Rx-Acid Scavenger products are formulated for use with all lubricants - mineral, alkylbenzene, polyol ester (POE) and polyvinyl ether (PVE) lubricants. The traditional Rx-Acid Scavenger product uses a two fluid ounce treatment, whereas the new Rx-Acid Scavenger Connect Inject uses a new formulation to improve the acid scavenging rate in POE and PVE lubricant systems.
Packaging Size
Part Number
Additional Info
RX-ACID SCAVENGER, 6X1 CS
4301-02
RX-ACID SCAVENGER (PRESSURIZED) 6X1
4301-05
RX-ACID SCAVENGER CONNECT INJECT 6X1 CS
4301-06
Directions:
Directions for Liquid Bottle (4301-02)
After Burnouts:
1. Remove and properly dispose of used oil and refrigerant, and replace burned out compressor.
2. Establish system's oil capacity.
3. Determine the required amount of Rx-Acid Scavenger using the dosage chart on the enclosed detailed instructions.
4. Add Rx-Acid Scavenger to system as directed by adding the product directly into the compressor of an opened system or injected directly by using the Universal Treatment Injector (P/N 4779-0). Return system to service.
For Directions on the pressurized can (4301-05) and Connect Inject (4301-06), please see below Product Bulletin.
Product Information:
Literature Downloads
Download the product bulletin and other relevant literature here.
Labels
Download a low resolution file of the product label here.
Product Safety
RX-ACID SCAVENGER, 6X1 CS

RX-ACID SCAVENGER (PRESSURIZED) 6X1

Rx ACID SCAVENGER CONNECT INJECT 6X1 CS