Bio-Fresh Fogger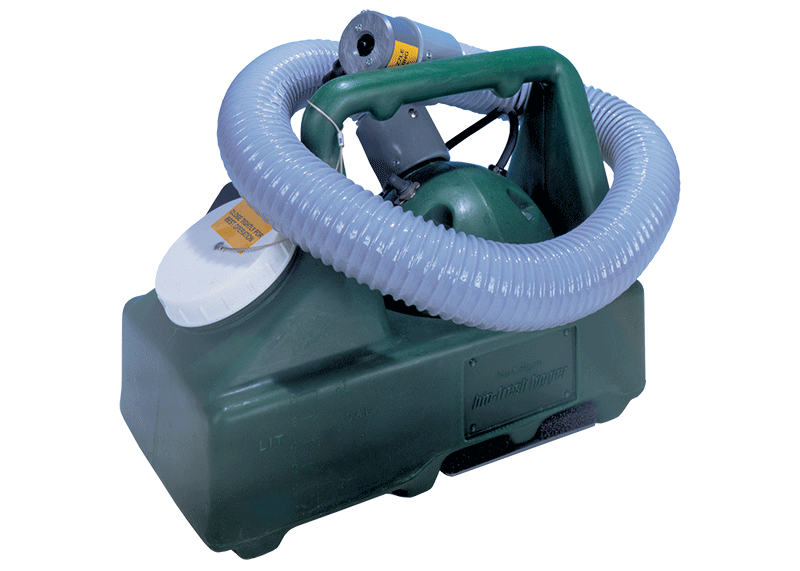 Used to spray Bio-Fresh cd into duct-work or other ventilating systems


Description:
The Bio-Fresh fogger can be used to apply (fog) Bio-Fresh cd into duct-work or other ventilating systems.
The Bio-Fresh fogger is made of a one-piece, seamless heavy-duty copolymer. It uses a 48˝ flexible hose to facilitate application into duct-work, and it is adjustable from 0–18 oz. per minute with particle sizes up to 80 microns. It is an ideal instrument for dispensing Bio-Fresh cd into enclosed ventilating duct-work for disinfecting the interior surfaces.
| Packaging Size | Part Number | Additional Info |
| --- | --- | --- |
| 1 each | 4693-0 | |
Directions:
Plan to use approximately 1 gallon of product per 2,000 sq. ft. of conditioned space. Take a few minutes to survey the system to determine how and where you will inject the Bio-Fresh cd.
Discuss this with the homeowner or building manager/owner, if possible.
Remove and clean all registers. Loosely tape brown butcher paper over each register to catch droplets as they could exit the duct. Be sure to leave plenty of room for air to escape. You may want to spread plastic on the floor under the register for extra protection.
Fog return air for 3 – 5 minutes with fan off. Continue to move fogger hose up and down to enhance coverage. Turning the fan on for short blasts of air movement will enhance fogging.
Access the system on the supply side of the coil. With the fan off, fog this side of the coil and pan.
As you fog, observe the direction of the drift. Normal air movement within duct should carry it one direction or another. Obviously, if a blower is used, the direction will be known ahead of time.
With the fan ON, fog Bio-Fresh cd into the duct system for 5 – 8 minutes or until you are confident of complete coverage. Continue to move the hose up and down for good coverage. It is a good idea to save some of the product in case you have to fog through some of the registers.
Check registers to see if the fog made it to the butcher paper. Paper will darken when wet. If fog does not make it to each register, it will be necessary to fog back through the register into the system.
For ductless systems or common returns, simply lift the ceiling tiles every 15 – 20 ft. to allow you to fog into the return area. Remember to "wet" the surfaces, do not soak them. Be sure to fog into any ducts or returns above the tiles. Once treatment is complete, turn on blower to air-dry all interior duct surfaces.
Product Information:
Literature Downloads
Download the product bulletin and other relevant literature here.
Labels
Download a low resolution file of the product label here.